Virtual Photo Booth Walk-Thru
Christmas 2020 was so very different.  In the thick of a pandemic, people were doing a lot of staying safe at home, and about the last place on the list of priorities was a shopping mall, let alone, standing in line waiting for a photo with Santa.
FotoFunSpot decided to host a virtual photo booth that would allow people to create a photo with Santa without having to wait in long lines.  In fact, they didn't have to wait anywhere!
We started by creating multiple digital frames (ie. photo templates) for the guests to select from.  The two snow globes are actually animated overlays with falling snow inside the glass bubble.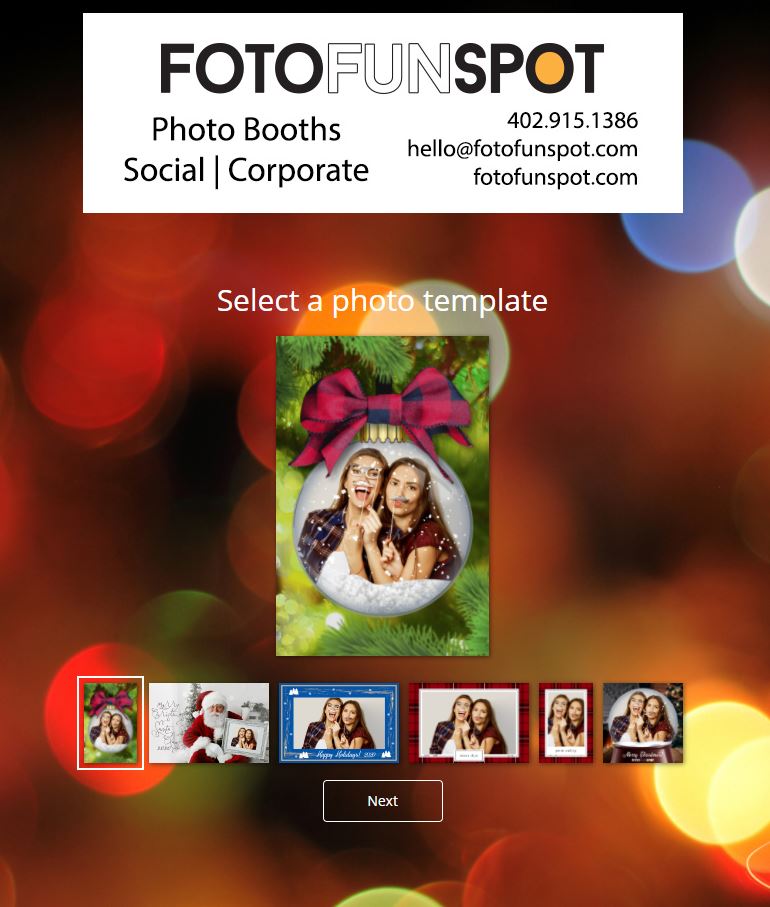 After selecting from the templates, the guests can use the built-in camera to take a photo, or use the upload button to choose from photos already on their device/computer.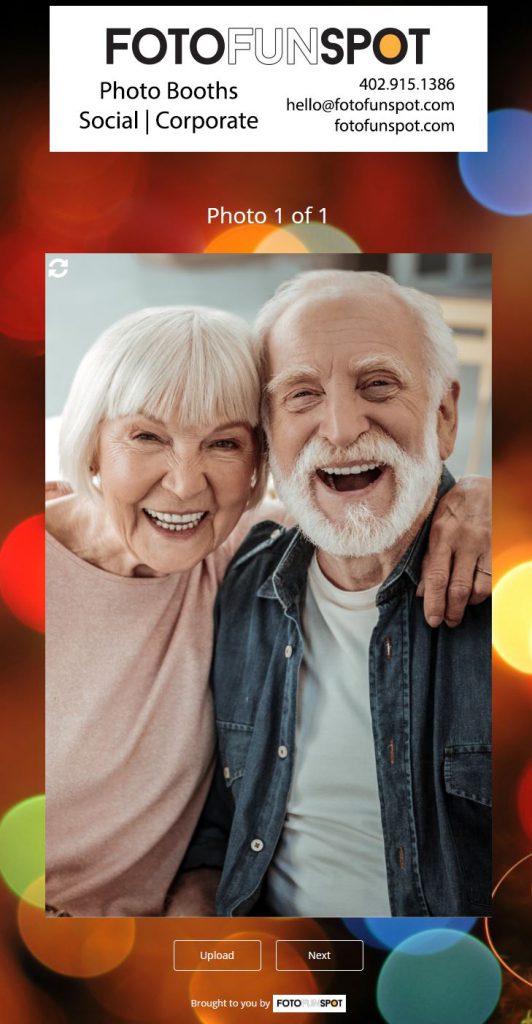 If uploading a photo, it can be moved and resized to fit the frame as desired.
The virtual photo booth places the image into the frame for a quick preview.  If desired, the guest may retake the photo, or approve it to move forward.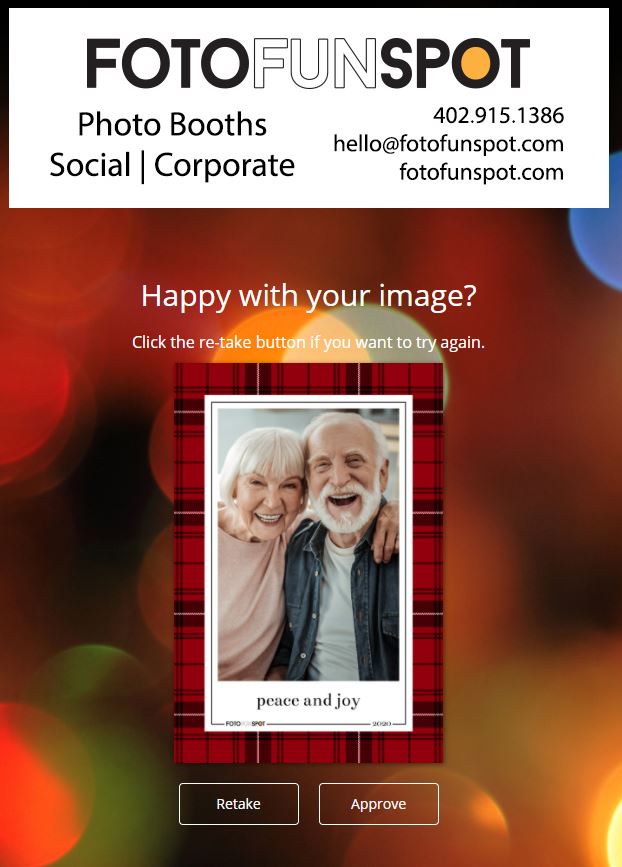 The photo booth software leverages artificial intelligence to remove the background from the photo, and prompts the user to choose a replacement, virtual background from the available choices.
Notice the background in the preview photo above, and compare it to the background behind the couple below.  The original "real" background has been removed entirely, and without the use of the traditional "green screen" needed for this type of photo.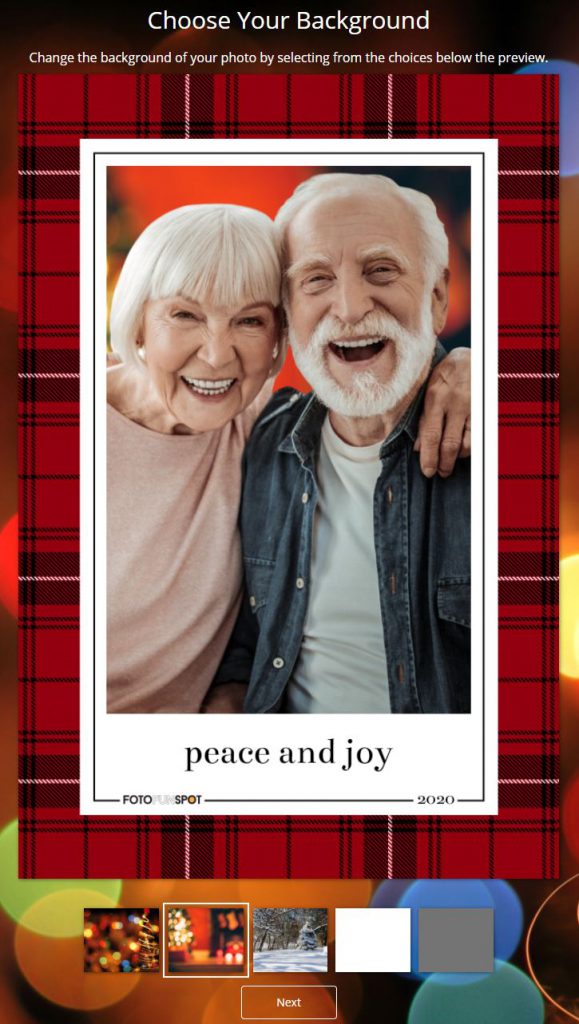 With the background replaced, it's time to move on to adding stickers.  Stickers can be almost any graphic or photo such as logos, mascots, people, or in this case, Santa!
Guests are allowed to add multiple stickers to their photo.  While adding the sticker, they can resize, move, and rotate the sticker to make it fit into the photo.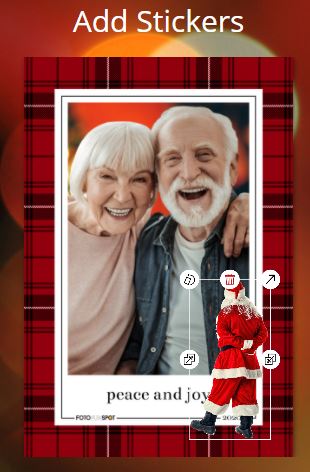 Now the photo is complete and ready to be shared!  Guests can email the photo to themselves for immediate delivery.  For Business Pro packages, texting can be added so the photo can be sent directly to their phone.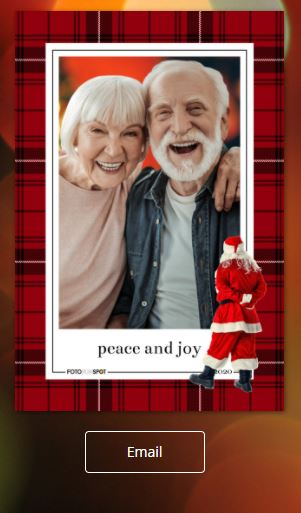 And to complete the session, the guest is offered the opportunity to take another photo, or to be directed to a link of your choice.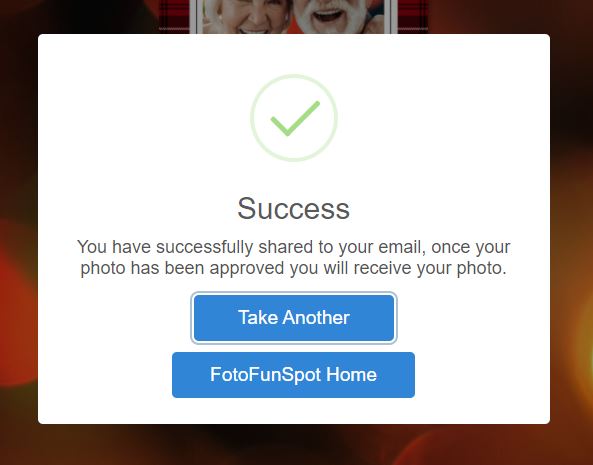 Additional, optional features include:
per-device limits so all guests have opportunity to use booth
custom disclaimer that must be accepted before continuing
custom background and heading to match corporate/event brand
guest headshots can become stickers used to create virtual "group" photos
Fill out the form below and tell us about your upcoming event.  Our team will reach out to you right away to help put together the ideal guest experience!